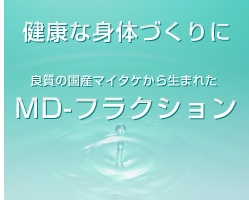 MD- fraction, was discovered by Namba professor emeritus of Kobe Pharmaceutical University,
is a valid polysaccharide that is included in the maitake (β-glucan).

This MD-fraction, the effect of activating the cell-mediated immunity is expected.

Kobe Pharmaceutical University has been patented in Japan, the United States, China · EU.

Research of MD fraction of the United States

Cancer clinical trials by MD- fraction that has been developed at Kobe Pharmaceutical University has been done
in the United States of cancer hospital Sloan-Kettering Cancer Hospital (New York City).
Current phaseⅡ is completed, and is scheduled to enter into is a final stage phaseⅢ.

The MD- fraction used in clinical trials of Sloan-Kettering Cancer Hospital is made in Japan.


Cancer clinical trials by MD fraction has been carried out, "Memorial Sloan-Kettering Cancer Center" (NY),
in the latest announcement in July 2008 <2008 USNEWS National Best hospital ranking cancer department>,
won the second place overall in the United States.

Opinion of the physician incorporating the MD fraction to treatment.

Treatment of cancer is surgery, chemotherapy, radiation therapy is the basic.
However, when developing cancer, human immunity will decrease.
In addition, immunity in the wound of the surgery will come further down.
Lowering of immunity will cause hasten the progression and metastasis of cancer.
So we recommend a combination of immunotherapy that enhances immunity.

Adopt Maitake MD fraction as one of cancer immunotherapy.
Used in combination with anti-cancer agent is also possible.

Effects that have been reported in clinical trials of Maitake MD fraction.

Tendency to side effects of chemotherapy can be reduced.
Specifically,
① improvement of appetite
② physical condition is good
QOL (quality of life) is increased.




Comment Professor Hiroaki Namba

Namba Hiroaki professor emeritus, has been awarded the International Honor Award to "Linus Pauling Award" in October 2010 2 Date.

Reason for the award
New York Academy Science Maitake MD- Fraction was highly evaluated by clinical trials in presentations and Memorial Sloan-Kettering Cancer Center in academic journals by, its against achievements to supplement drugs that activate the contributions and immunity to people of life was praise honor.

He has continued the research of maitake for many years in the laboratory.
As a result, discovered the existence of a very distinctive polysaccharides that are not included in the other mushrooms, it has been named "MD- fraction".

"Maitake MD- fraction Extract" and "Maitake MX- fraction tablet" is a product containing the polysaccharide "MD- fraction", the usefulness of the immune improvement is expected.




For cancer and immune and maitake

By the immune activity to maitake, it is said that there is a cancer growth inhibitory action.
In human clinical preliminary test, breast cancer, liver cancer, and he has an example of recognized effect in lung cancer.
In addition, also effective for AIDS,hepatitis,
In animal experiments, diabetes, hyperlipidemia, hypertension, hepatitis, and it has been effective in allergic suppression.

Various possibilities of maitake is expected.
Especially that the research has been actively carried out, it is immunotherapy against cancer.

This immunotherapy is a medical supplement the mainstream and made three major therapy of cancer treatment (surgery, chemotherapy, radiation therapy).
That is, as "complementary medicine", and is expected to people of experts such as researchers and clinicians.

Among them, especially maitake has been studied by Namba professor emeritus of Kobe Pharmaceutical University, is a food that has been noted also in the actual medical field.



Reference material

http://npocam.org/gakkai/seibutu/index.htm

What is MD-fraction,MX-fraction?